IN MEMORY
Jerry Pawlak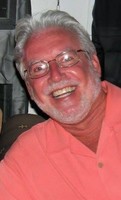 Jerry Pawlak went home to meet the Lord on October 12, 2017 at the age of 63. He was born on March 26, 1954 in Houston Texas to Victor and Theresa Pawlak. He grew up with his sister Linda and brother Victor both of which he loved very much and was very close to. Jerry was loved by so many people and truly touched so many peoples' lives.

Jerry graduated from Reagan High school in 1973. After high school Jerry went on to start his career in the Electrical Industry and never left because it was his love, he enjoyed work so much. In 1979 Jerry had his first born son Tyler, followed by son Ryan in 1981 and daughter Abbie 1982. Jerry was a wonderful man, a true angel to all who were lucky enough to meet him. He will truly be missed.

Jerry is survived by his sister Linda Jarrett and Her husband Jerry, Brother Victor Pawlak and his children Tyler, Ryan and Abbie along with his grandchildren Bella, Brooklynn, Brayden, Baeylyn and Bria. Jerry had a tremendous amount of love for his children and grandchildren.

Visitation will be held on 10/18 from 4-7 pm at St. Maximilian Kolbe 10135 West Road. Houston TX 77064 followed by the memorial service Thursday 10/19 at 10:00 am. Jerry will be laid to rest at Forest Park Lawndale Funeral home alongside his mother.
NOTE: Although Jerry graduated from Reagan, he attended Waltrip before that and was a member of this website.
http://obits.dignitymemorial.com/dignity-memorial/obituary.aspx?n=Jerry-Pawlak&lc=2491&pid=186931391&mid=7596524&locale=en_US