IN MEMORY
Shirley Shelton (Els) VIEW PROFILE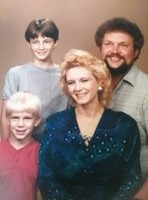 This is John Els, Shirley's husband and Soulmate. Shirley was diagnosed with stage 4 kidney cancer in October of 2016. She died from cancer on December 21, 2016 at 4:12PM. Saddest day of my life.
Not one day has passed since then that I haven't felt the hurt and sadness of this loss and today it is just as powerful as the day it happened. I woke up this morning and thought about her Classmates so I sought to let you guys know that she is with the Lord today. Her last coherent words to me was, "I'm worried about you. I don't want you to think about now or the time that we'll be apart. Think about where I'm going. It will only be a short while and you'll be there too and I'll be waiting for you". I wake up every morning and go to bed each night with these words on my mind. She was the most loving and amazing woman I ever knew and I am convinced that God made us for each other. We were not perfect in our lives by any stretch but we loved each other deeply. I know with all my heart that Shirley and I will be reunited in Heaven one day and we will live a perfect life together for eternity.
Click here to see Shirley's last Profile entry.