IN MEMORY
Foster Martin, Jr. (Coach)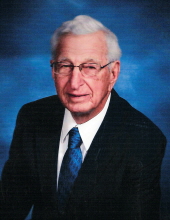 Foster Dennis Martin, Jr.
November 8, 1927 - August 13, 2021
Foster attended Milby High School in Houston and received his Master's Degree from the University of Houston. After high school, he was drafted into the Army and served in General MacArthur's Headquarters in Tokyo, Japan. Foster enjoyed eating with the General's Honor Guard when they got off work.

Foster started teaching the sixth grade and then in 1951, he started his coaching career. He coached at Jackson Jr. High for eight years and then went to Jeff Davis High School where he was the head basketball coach and assistant football coach. After nine years there, he went to Waltrip High School to coach basketball, football and golf. In 1964, he coached the THSCA South all-star basketball team to victory, and also served as selection chairman of the 1965 all-star basketball team. He served as a member of the Board of Directors of the Texas High School Coaches Association from 1971 to 1973. Foster retired from teaching and coaching in 1986, moving to New Ulm, Texas where he and his wife enjoyed country living for many years.

Foster was married to Lucille Voelkel for 72 wonderful years. They have three children; Karen and husband Billy Kees, Nancy and husband Mike Dean, and Cathy Martin. They have four grandchildren and five great grandchildren.He was preceded in death by his mother and father; brothers Jesse, Earl, Robert and Alfred.

Visitation will be Tuesday, August 17, 2021 from 9:00 AM to 10:00 AM at Sts. Peter and Paul Catholic Church in Frelsburg. A rosary will be held at 9:30 AM. A Funeral Mass will be celebrated at 10:00 AM at Sts. Peter and Paul Catholic Church with Fr. Bob Knippenberg officiating. Rite of Committal and burial will follow at Sts. Peter and Paul Catholic Cemetery in Frelsburg.

Serving as pallbearers are Adam Dean, Eric Hughes, Gary Voelkel, David Voelkel, Foster Voelkel, Boyce Weiman and Mike Dean. Honorary pallbearers are his former basketball players.

In lieu of flowers, make donations to Sts. Peter and Paul Catholic Church, 1031 Church Lane, New Ulm, TX 78950.
https://www.hennekefuneralhome.com/obituaries/Foster-Dennis-Martin-Jr?obId=22012711